We Ride A Whirlwind: Sherman and Johnston at Bennett Place
We Ride A Whirlwind: Sherman and Johnston at Bennett Place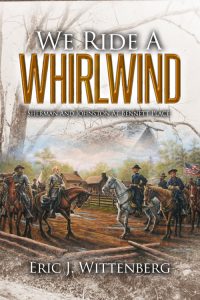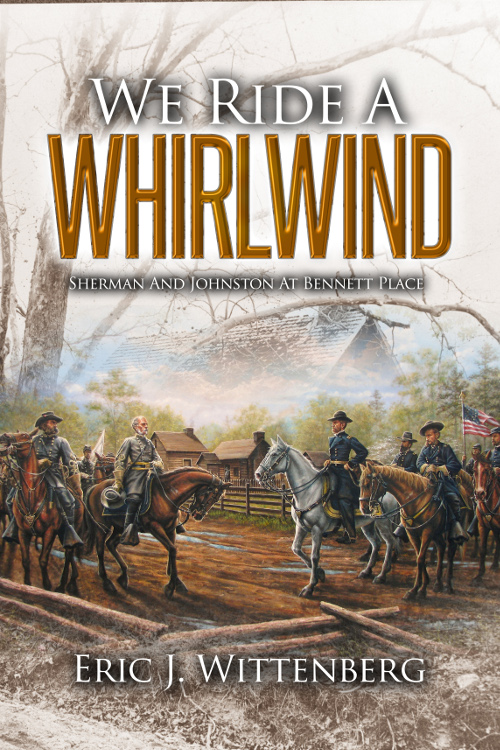 The events at Appomattox Court House in Virginia on April 9, 1865 have long been considered the end of the Civil War. However, there were still Confederate armies in the field. Maj. Gen. William T. Sherman, commander of the Union armies operating in North Carolina, still faced a 31,000 man Confederate army commanded by Gen. Joseph E. Johnston. In addition, another 60,000 Confederate soldiers remained under arms east of the Mississippi River.
Johnston's army inflicted heavy losses on Sherman's forces at the Battle of Bentonville in March 1865, but was nearly captured when its escape route was nearly blocked by Sherman's much larger army. Instead of pursuing Johnston, whose troops escaped to Smithfield, North Carolina, Sherman instead marched to Goldsboro, where his army was reinforced and spent two weeks resting and refitting. Unlike Lee's army, which was surrounded at Appomattox and compelled to surrender, Johnston's army was not surrounded and had a substantial head start on Sherman, who would face hard marches and possibly another bloody battle before he could compel Johnston to surrender.
When Sherman learned that the Army of the Potomac had captured Richmond and caused Lee's army to flee toward Danville, on the Virginia/North Carolina state line, he set his army in motion. By the time it reached Smithfield on April 12, Johnston had fallen back to Raleigh. Sherman pursued, prompting Johnston to evacuate Raleigh. But then word arrived of Lee's surrender—an event that changed everything. Johnston, realizing that there was no further reason to flee in an attempt to link up with Lee's army, asked Sherman to meet with him to discuss terms of surrender. Then came word of the assassination of Abraham Lincoln, an event that prompted Johnston to say that with the death of the President of the United States, the South had lost its best friend.
This set the stage for the dramatic events that occurred at James Bennett's farm in modern-day Durham. In three remarkable meetings, Sherman and Johnston tried to not only set the terms for the surrender of the 91,000 Confederate troops east of the Mississippi River, but to make peace, once and for all. The new administration of President Andrew Johnson, eager for vengeance for the assassination of Lincoln, rejected the terms negotiated by Sherman and Johnston, excoriated Sherman in the press, and forced him to threaten Johnston with the renewal of hostilities if he did not surrender upon the same terms offered to Lee at Appomattox. Johnston wisely accepted those terms, leading to the surrender of his command and those other Confederates east of the Mississippi.
This is the story of those events, told in detail, and often in the words of the participants themselves. Author Eric J. Wittenberg has masterfully told this compelling story. Numerous photographs and maps accompany the narrative describing the end of the great American tragedy of the Civil War.