We Ride A Whirlwind in Civil War News
We Ride A Whirlwind in Civil War News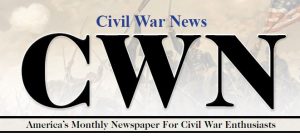 Thanks to Civil War News for this fine review of "We Ride a Whirlwind: Sherman and Johnston at Bennett Place." We also thank them for allowing us to republish it here.
We Ride a Whirlwind: Sherman and Johnston at Bennett Place.
By Eric J. Wittenberg.
Maps, photos, notes, appendices, index, 249 pp., 2017. Fox Run Publishing, www.foxrunpub.com. $34.95 hardcover.
Reviewed by Daniel T. Davis
On April 9, 1865, Gen. Robert E. Lee surrendered the Army of Northern Virginia to Lt. Gen. Ulysses S. Grant at Appomattox Court House. Lee's capitulation, however, did not bring an end to the Civil War. Another Southern force, Gen. Joseph E. Johnston's Army of Tennessee, was still operating in North Carolina. Since his return to command in February, Johnston had contested the advance of Maj. Gen. William T. Sherman's army group as it marched through the Carolinas from Savannah. The loss of the Confederacy's most significant command in Virginia convinced Johnston that further resistance was useless. He resolved to meet with Sherman and seek terms of surrender.
The two old foes met at James Bennett's farm west of Durham Station. Unlike the brief conference in the parlor of Wilmer McClean's house, Sherman and Johnston met three times on April 17, April 18 and finally on April 26. The outcome ultimately led to the surrender of not only Johnston's army, but Confederates in the Carolinas, Georgia, Florida and Tennessee, totaling over 89,000 men.
Eric J. Wittenberg, the authority on Civil War cavalry operations, has moved away from his recognized subject of expertise to re-tell this compelling story. Relying on a variety of primary sources, including the writings of Sherman and Johnston, Wittenberg takes readers inside the walls of the Bennett House with the two antagonists. He examines each meeting in detail, the terms of surrender offered by Sherman and agreed to by Johnston, and the political ramifications of those momentous days. The text is supplemented by outstanding maps by Mark A. Moore, the authoritative cartographer of the war in North Carolina. Extensive endnotes provide biographical information on the key individuals of each side.
Wittenberg's quick-paced prose makes for an enjoyable read; one could easily finish the book over the course of a weekend. Especially of value is the epilogue, which traces the history of Bennett Place through the Civil War's Centennial and its establishment as a state park. Readers will also find the appendices of great interest. They include an Organization of Forces, an examination of Sherman's motivation in offering his initial set of terms to Johnston, correspondence between Jefferson Davis and his chief cabinet members prior to Johnston's surrender, and Lt. Gen. Wade Hampton's actions after the surrender. This is an excellent and highly recommended work on a forgotten episode of the Civil War.
Daniel T. Davis is the co-author of six books in the Emerging Civil War Series published by Savas Beatie, LLC. His forthcoming book, The Most Desperate Acts of Gallantry: George A. Custer in the Civil War, will be released in the spring of 2018. He is a Managing Editor of the Emerging Civil War blog and resides in Fredericksburg, Va.